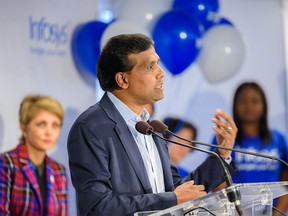 Infosys opens Calgary office with plans to hire 1,000 workers by 2024
The global IT company, which operates in 50 countries, will locate its digital centre in Gulf Canada Square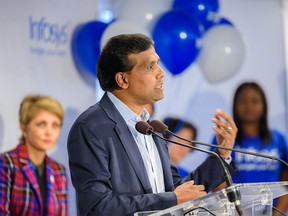 Article content
Infosys will bring 1,000 new jobs to Calgary over the next two years, the company announced as it prepared to open its new office in the downtown core on Monday.
Article content
This is double the 500 workers over three years that was promised when the company announced its expansion to Alberta in 2021.
Article content
"Today is the beginning of our next chapter in Canada as we open the Infosys Digital Centre in Calgary," Ravi Kumar, president of Infosys, said in a press release. "Calgary's IT innovation potential is unlimited, and we are delighted to be a part of its future."
Kumar said Calgary was chosen due to its booming tech centre, access to talent and strategic talent that allow Infosys to work with clients across sectors, such as energy, natural resources and agriculture.
Infosys offers next-generational digital services and consulting, and will be located in the Gulf Canada Square at 401 – 9th Avenue S.W. The company helps clients develop cross-industry solutions to challenges in intelligent automation, green technology, user experience and advanced digital technologies, including big data and cloud. The new digital centre will train, upskill and reskill employees in these technologies.
Article content
Infosys has a footprint in 50 countries around the world with more than 300,000 employees. This expansion to Calgary is part of the Canada-wide strategy with a commitment to doubling its workforce in Canada to more than 8,000 people by 2024.
"It's all about what we're able to do for our clients and the availability of talent," Tan Moorthy, Infosys executive vice-president of delivery operations for U.S., Canada and Latin America, said in an interview.
"We look at Calgary as a place from which we can service our clients, not only in Canada but even in the Pacific Northwest and the U.S., and that's gone well. And more importantly, talent availability in Calgary has also been very good."
The Infosys office will play a significant role in the city's burgeoning tech sector with a number of major companies expanding and moving to Calgary, such as IBM, Mphasis and Unity. The sector continues to draw record venture capital investment while home-grown companies like Neo Financial begin to make a global impact.
Article content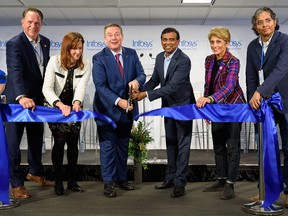 "Infosys' choice to establish Calgary as a major technology centre is a big moment for our city and further demonstrates our city as a prime destination for the world's leading technology companies," Calgary Mayor Jyoti Gondek said in a press release. "Building a thriving innovation ecosystem takes a village, and Infosys will play a key role in our growth. In particular, Infosys' partnerships with local universities to train Calgary students and create job opportunities will help propel us forward."
One of the big challenges facing the sector is meeting the workforce requirements. Many of these companies have partnerships with post-secondary institutions like the University of Calgary, SAIT, Mount Royal University and Bow Valley College.
Article content
Tech giant Infosys to expand to Calgary; promising 500 new jobs over three years

'A long courtship': It took four years to land Infosys, says Nenshi

Calgary tech companies face fierce worldwide competition in hunt for new talent
Infosys has partnered with the University of Alberta since 2016 and will continue to expand on that relationship.
"Uniting the research expertise at Infosys with the U of A's talented students and our excellence in artificial intelligence, machine learning, and digital science and technologies secures a mutually beneficial link between global industry and post-secondary expertise," said Bill Flanagan, president of the U of A. "Through collaboration, we pursue research and development projects that will harness the potential of core technologies for the benefit of people and communities around the world."
— With files from Chris Varcoe, Postmedia
Twitter: @JoshAldrich03